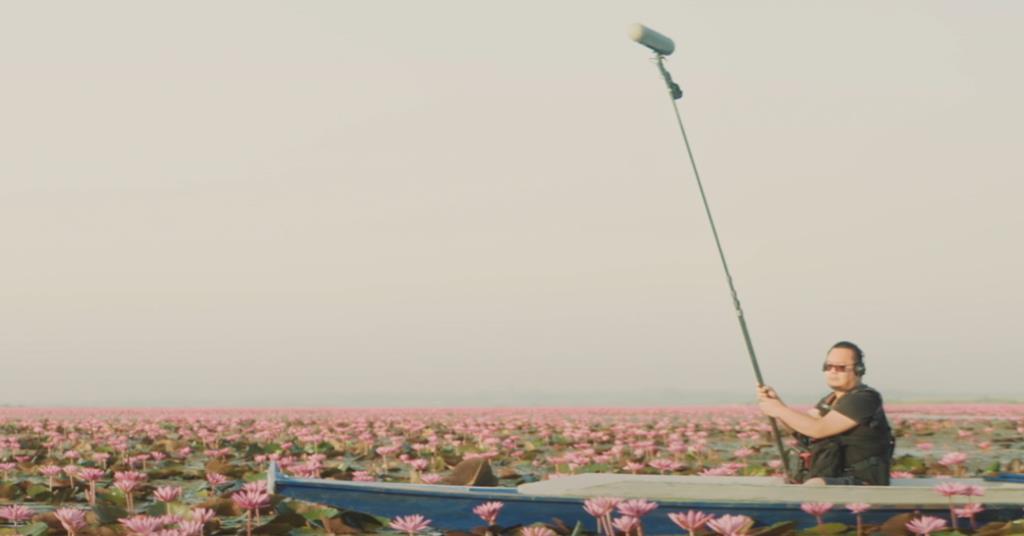 '24': Busan Review | Comments
Director: Royston Tan. Singapore / Thailand. 2021. 77 min.
24 is the latest digitally titled offering from Singaporean filmmaker Royston Tan, who has made his way to international recognition with his visceral street gang drama 15 (2003). Tan hasn't been particularly prolific lately in terms of features, with 24 being his first theatrical release since his musical 3688 (2015). However, he worked on commissions such as an advertising campaign for Visa, the interactive anti-drug short film. High (2020) and a public health video to keep Singapore citizens safe during the pandemic. 24 Initially seems to share a creative kinship with Tan's abridged projects in that it consists of twenty-four scenes of approximately three minutes each, each shot in a different location or requiring a change of dressing. Yet the constant presence of a wandering sound-taker indicates a holistic design while still allowing Tan to seamlessly merge meta-elements with philosophical concerns.
Utterly delicious scene by scene
World premiere at the Busan International Film Festival, 24 is the kind of aesthetically appealing personal piece that will effortlessly charm socially distant crowds. Specialized distributors will surely take note since it is not only imbued with the local flavor one expects from Tan but also deeply universal. As the director explores his concept in a concise 77-minute duration, 24 is ripe for repeat viewings and therefore will prove to be pure catnip for curious art-house audiences, whether experienced in theaters or streaming.
It starts with Tan flaunting his reputation as enfant terrible of Singaporean cinema as two men engage in a steamy date in a bedroom. Despite all the frank privacy on display, the pink and blue nightclub lighting and muffled music suggest the viewer might be spying on a pornographic movie set. This feeling is heightened when a sound engineer (James Choong) walks into the frame with an intrusive boom mic, while the erotic shenanigans continue as if he's not there. But we soon follow the sound engineer elsewhere.
Over the next twenty-three scenes, he appears in environments as varied as a forest, a cemetery, a theater, a shop, a cinema, an apartment toilet, a truck carrying migrant workers, and a temple, without ever interacting directly with those present. . Although this traveling technician is primarily a passive observer or recorder, his visits sometimes seem to be indirectly recognized. Could several temporal dimensions be at play?
Filmed over three years in Singapore and Thailand, it is a haunting meditation on life and mortality that incorporates Tan's signature absurd humor into an alluring setting. He may only be in his mid-forties, but Tan has clearly entered a period of reflection since. 24 is full of reminders to his career to date. While recording in a dirty underground passage, the sound engineer picks up a vitriolic bullying incident happening nearby that is reminiscent of the flawless social commentary of 15, while Tan appears as himself and Xiao Li Yuan reprizes his role in the director's second feature film 4:30 (2005). In some ways, 24 could be seen as an abstract, and perhaps rather premature, trip down memory lane.
However, any sense of self-indulgence is offset by choosing Tan de Choong, his usual sound-taker, as the almost mute protagonist. Dressed in any ensemble of plain shorts and t-shirts, this unpretentious collaborator is emblematic of the reliable and largely unrecognized crew members who strive to balance their tough jobs with their personal responsibilities. Additionally, Choong is a naturally endearing presence. Exuding a funky, unemotional quality, he delivers genuinely disarming facial expressions, whether amused by three drunken friends complaining about the high cost of living or saddened to find a young man in the throes of unspecified emotional angst.
Although a master plan is poignantly revealed, 24 is utterly delightful scene by scene, as the characters are vividly sketched through glimpses of life, work, and artistic endeavors. Almost entirely shot in fixed frames by cinematographer Juan Qi An, these scenes are beautifully staged and often enriched by the cheerful color of Tan's flamboyant features. 881 (2007), 12 Lotus (2008) and 3688. Appropriately for a film that focuses on a sound engineer, Rennie Gomes' audio design is top notch with lone erhu practice and a fascinating diva performance by Singaporean singer Rebekah Sangeetha Dorai amidst musical pleasures.
Production company, international sales: Chuan Pictures, [email protected]
Producers: Karen Khoo, Jun Chong
Editing: Jun Chong
Photography: Juan Qi An
Main actors: James Choong, Liang Tian, ​​Joanne Chung, Michael Tan, Rebekah Sangeetha Dorai