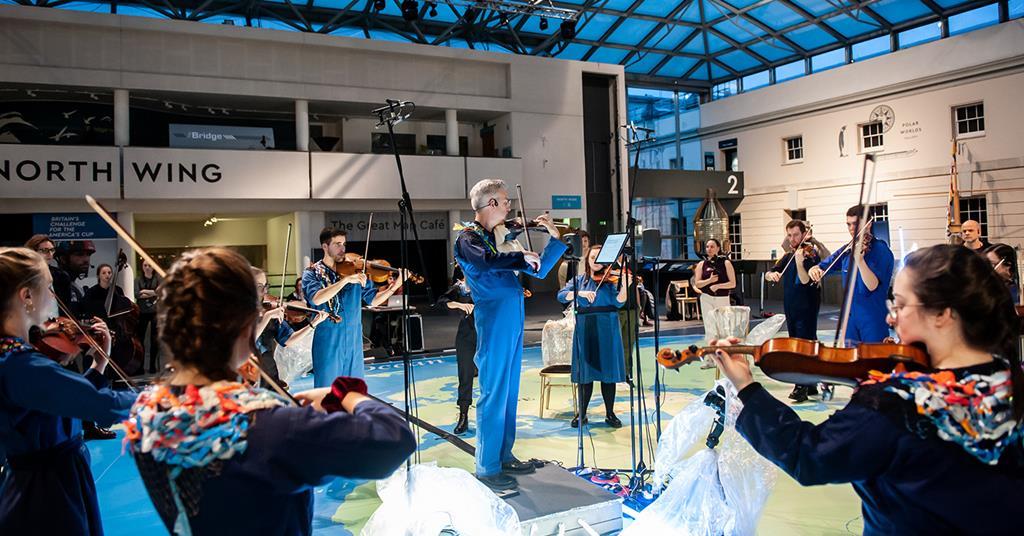 A Change of Season: highlighting the climate emergency through music | Blogs
The Shipley Arts Festival and its founder, Andrew Bernardi, are delighted to invite one of its long-time members, Nic Pendlebury, to open the Festival with his imagined piece A change of season for Trinity Laban's string ensemble. The Festival is committed to providing a platform for young players to develop and to raise environmental awareness, and as such is delighted to welcome A change of season with an additional appearance from the String Academy of the Bernardi Music Group.
A piece by Nic Pendlebury, head of the strings department at the Trinity Laban Conservatory of Music and Dance and violist of the Bernardi Music Group.
Climate change is one of the most worrying and immediate issues of our time. I'm old enough to remember snow at Christmas and scorching summers, but now, as we all know, it's almost impossible to predict the weather.
I organised A change of season as a means of addressing this political issue through the arts. Inaction is no longer an option, so I wanted to inspire my students to use their creative art forms as a tool for change and show that art can convey strong messages in everyday consciousness.
Through the juxtaposition of Vivaldi's iconic masterpiece and an immersive world of sound from living composer and Trinity Laban speaker Hollie Harding, the program explores the seasons as they should be and as they could become. , using the performance as a way to comment on and react to the climate. emergency and engage with the public.
The inspiration for the program stems from a world first in 2019, when Hollie was completing her doctorate in composition with us. As a composer, she is interested in different ways of constructing performance scenarios and exploring the impact this has on compositional processes and the listening experience. Enthusiastic about her approach, I invited her to collaborate with me to develop a work for electric viola and string ensemble from the conservatory.
The resulting work Melt, change, liquid world embodies the kind of creative, collaborative and innovative work that sets us apart as a London creative conservatory.
Blending innovative audio technology, wandering musicians and field recordings of the Arctic sea ice, it highlights the consequences of rising temperatures and ocean pollution. It is the first composition to incorporate the use of open-ear bone conduction headphones alongside live acoustic and amplified instruments to create a multi-layered sonic environment that allows the audience to move and move at the same time. interior.
We gave the world premiere on the Big Map at the National Maritime Museum in Greenwich to critical and public acclaim, and we were set to bring the play back to life in 2020, but the pandemic delayed that. This gave me time to think about other climate-inspired works, which is when the idea of ​​staging a reworking of Vivaldi's Four Seasons with Hollie's play came to mind.
Inaction is no longer an option, so I wanted to inspire my students to use their creative art forms as a tool for change and show that art can convey strong messages in everyday consciousness.
Music has an incredible ability to capture emotion and character. From the chirping of spring birds to the cracking of winter ice, Vivaldi conjures up the extraordinary sounds of the changing seasons, transforming sonnet lines into musical notation. Similarly, Hollie translates poetry into sound, evoking frozen tundra through an array of expansive techniques. These are combined with field recordings from the Arctic made by David Attenborough's sound engineer, Chris Watson, and the poem Still Life with Sea Pinks and High Tide by Maura Dooley.
I thought the idea of ​​two works in the same program had a strong political message and could shed light on a key issue from an original angle.
It was also important for me to say something new, to offer a new interpretation of Vivaldi's much loved and played sequel.
To bring the Seasons to life, I imagined presenting the work almost like an opera, the musical lines so descriptive and visual that I had very clear and tangible visual ideas of a setting and a direction in my head. However, I am not a theater director, so to help me realize my vision, we engaged theater director Anna Morrissey and designer Carla Goodman to give this wonderful programmatic music an incredible visual element. We combined music, sound and movement to bring Vivaldi's score to life like never before.
It seems fitting to present the doubleheader at the Shipley Arts Festival, an organization with a strong focus on climate change, rewilding and sustainability. Works with an eco-political message are at the heart of Founder Andrew Bernadi's programming, including that of Helen Ottaway white rods commissioned to celebrate the reintroduction of the nesting rods at Knepp's Castle.
It's been a lot of hard work to put it all together, but I think the resulting show will take audiences' breath away and hopefully send them home with a strong message that if we're not careful, this beautiful world of ours with its glorious variety of seasons will be destroyed forever. Vivaldi's glorious world will be more like Harding's, a prospect I don't think any of us want.
A change of season will open the Shipley Arts Festival at the Malden Family Theater in West Sussex on Saturday March 26 at 6pm, with a rehearsal at 8pm. The Bernardi Music Group's String Academy will complement the Ensemble's emphasis on the seasons with works devoted to the beauty of nature: John Ireland's "Toccata" in the Concertino Pastorale and Malcolm Singer's new work, "Eli Eli". More information here.
Bone conduction headphones kindly provided by Shokz.
The A Change of Season tour dates also include National Maritime Museum, Royal Museums Greenwich (March 19 and 20); The Stoller Hall, Manchester (March 23) and Latitudes Festival (July 21-24).