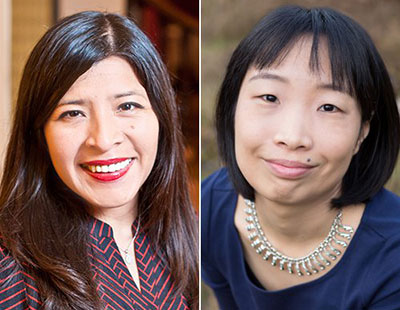 Amerindian and Native Studies program expands with the addition of two new scholars
Two Leading Scholars in Global Indigenous Environmental Studies Join Native American and Indigenous Studies (NAIS) Program at College of Arts and Sciences | Maxwell School of Citizenship and Public Affairs (A&S | Maxwell). Mariaelena Huambachano, Assistant Professor of Religion, started her post in fall 2021 and Chie Sakakibara, Associate Professor of Geography and Environment in A&S | Maxwell, will take office in the spring of 2022.
The NAIS program focuses on research and scholarship on issues of concern to Indigenous societies around the world. Huamchano's research focuses on food sovereignty and sustainability. Sakakibara's work explores the interplay of climate change and indigenous resilience.
With the addition of Huamchano and Sakakibara, NAIS's reach in A&S will be significantly expanded, says Scott Manning Stevens, associate professor of English and director of the NAIS program.
"I hope that students from all walks of life recognize the immense opportunity they have to open their minds to different ways of seeing the world around us and of dealing with pressing questions about the future of the planet," says Stevens.
A&S Dean Karin Ruhlandt notes that intercultural competence and social justice are long standing strengths in A&S departments and programs. "The hallmark of an A&S student is their intellectual openness to the perspectives, cultures and knowledge of people around the world. For this reason, we are proud to be home to the growing Native American and Native Studies program, where students can study important societal, political, and ecological issues alongside leading academics like Mariaelena and Chie.
Mariaelena Huambachano is from Peru of Quechua ancestry who has lived in Aotearoa, New Zealand from an early age, inspiring a collaborative and intercultural approach to her work in the areas of food and environmental justice, welfare , sustainable development and public policies. . She completed her graduate studies at the University of Auckland in Aotearoa, New Zealand. She explored food security through an indigenous lens – the Maori and Quechua peoples – emphasizing the value of "food sovereignty". Indigenous food sovereignty refers to the right of indigenous communities to control how their food is produced and distributed, and challenges industrial food production, which Huamchano says often exploits the land and disrupts human and non-human flourishing. . Food sovereignty is essential to the health, well-being, economic resilience and cultural heritage of indigenous communities.
Huambachano was previously an assistant professor of civil society and community studies at the University of Wisconsin at Madison. His research focuses on the intersections of indigenous traditions, the right to food and well-being. To voice and recognize unique knowledge systems, she developed the "Khipu Model", an Indigenous research model, which she uses in her work with Indigenous communities. As a community-engaged Indigenous researcher on food and environmental justice, she explores traditional value systems and philosophies of well-being for Indigenous peoples. She has published extensively in journals in English and Spanish and has contributed to chapters in collections such as the "Routledge Handbook of Sustainable and Regenerative Food Systems and Critical Studies on Corporate Responsibility, Governance and Sustainability". She is completing the manuscript of her book "Rematriating well-being: Indigenous traditions for living well" which will be published by the University of California Press.
"My teaching philosophy is informed and shaped by my cross-cultural experience as an indigenous Peruvian scholar who lived from an early age in Aotearoa, New Zealand, the cradle of indigenous Maori culture," Huambachano noted in a previous A&S press article. . "By focusing on the richness and breadth of cultural diversity and humility, I seek to address environmental and food justice issues, providing my students with a dynamic, inclusive, collective learning environment. and creative.
Chie Sakakibara currently teaches at Oberlin College as Associate Professor of Environmental Studies Program and will join A&S | Maxwell's Department of Geography and Environment in Spring 2022. Sakakibara is of Ryūkyūan descent, an indigenous group in southwestern Japan comprising the Okinawa Archipelago and its diaspora within and beyond Japan .
As a cultural geographer, Sakakibara's research focuses on the humanistic dimensions of global climate change among Indigenous peoples in North America, particularly on Indigenous sovereignty, health and well-being, and environmental justice in the 'Arctic Alaska. Sakakibara holds a doctorate. in Geography and MA in Art History from the University of Oklahoma, with an undergraduate degree in Native American Studies from the same institution. She has published extensively in academic journals in geography, polar studies, anthropology and climate studies. His work in the Arctic has received three grants from the National Science Foundation (NSF) Arctic Social Sciences Program and the Barrow Arctic Science Consortium, leading to the publication of his recent book, "Whale Snow: Iñupiat, Climate Change , and Multispecies Resilience in Arctic Alaska "(University of Arizona Press, 2020), which received the Meridian Book Award from the American Association of Geographers for Outstanding Scholarly Books in Geography, the annual award for a book that expresses with the more force the nature and importance of geography.
The scope and importance of the Sakakibara Stock Exchange is not limited to Alaska, but intersects with various projects in North America and the Pacific region, where human well-being and society-nature intersections are threatened by climate change. Sakakibara's emerging collaboration with an indigenous Ainu community in northern Japan was recently funded through research and promotion of Ainu culture, and she is currently drafting an NSF proposal in partnership with her Ainu colleagues to place indigenous environmental history often marginalized in the hands of contemporary Ainu society to facilitate decolonization.
Sakakibara's work also extends to environmental humanities, which bridges traditional divisions between natural sciences, engineering, social sciences and humanities, with the aim of addressing environmental challenges. "As global climate change and the pandemic become increasingly deadly forces, the environmental humanities, combining scientific rigor and creative practice, are needed to think about how to live well on earth," explains Sakakibara. "I would love to develop courses in Syracuse that explore many connections between Indigenous societies and nature in order to promote a humanistic understanding and solutions to environmental challenges. "
The appointments of Huambachano and Sakakibara are part of the University's research clusters initiative, where several researchers are hired from at least two schools or colleges in related fields, based on shared, multidisciplinary research interests. or interdisciplinary. The initiative serves to strengthen research activities, improve faculty diversity, and develop research and learning opportunities for students who respond to societal challenges. Their hires fall under the Environmental Humanities (NAIS) category, which is part of the Energy and Environment cluster initiative.