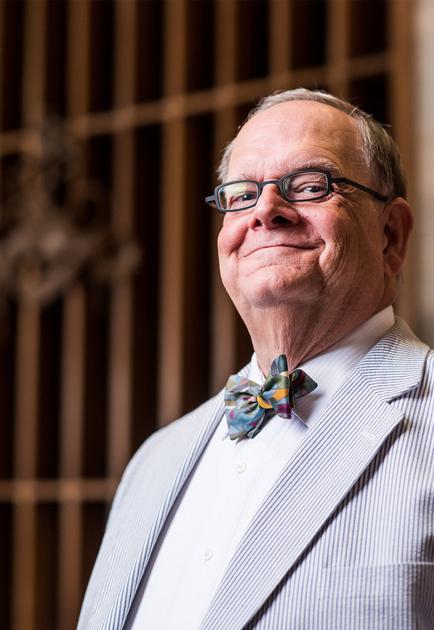 Hastings Church Musician and Virtual Choir Make New Call to 'Pray and Work' | New
Earlier this year, a man's labor of love from Hastings expressed the aspirations of his faith community for a fruitful season of renewal.
Robin Koozer, former music coordinator and current director of the chancellor's choir at First Presbyterian Church, reworked his favorite hymn, "Come, Labor On" – the melody is "Ora Labora", which in Latin means "pray and work" – to reflect a theme adopted by Pastor, Reverend Greg Allen-Pickett; Associate Pastor, Reverend Damen Jensen-Heitmann; and parish associate Kili Wenburg for the Lenten season leading up to Easter.
The single theme supplanted the usual Lenten self-sacrificing message, calling to action a congregation that had been estranged from each other for many months by the novel coronavirus disease, COVID-19, pandemic.
The lyrics of the hymn, with rich agrarian imagery, were written by Jane Laurie Borthwick in 1859 as a poem, which was repeated in 1863. The musical arrangement of the hymn was added by Thomas Tertius Noble in 1918.
The hymn was adapted into a choral hymn by Jeremy Bankston, a close friend of Koozer, music director at Prince of Peace Lutheran Church in Dublin, Ohio, who gave Koozer permission to rework the song for a virtual performance.
Koozer embarked on the project in March and April, with the adaptation performed virtually with musical accompaniment provided by Presbyterian premier organist Linda Vollweiler and trumpeter Louie Eckhardt, music professor at Hastings College.
Over 40 singers from several states with ties to the church lent their voices to the performance via internet recordings, which were then mixed and mixed by Tom Michalek, Watson Elementary School music teacher and choir director at the First United Methodist Church.
The virtual performance was part of the Palm Sunday worship service at the First Presbyterian on March 28.
"Rather than giving up something for Lent, our staff developed the theme 'Let's do something to make the world a better place'," Koozer said. "They put many facets of a program together with this theme, so I thought we needed a musical component.
"I felt moved by their work to write a new text for this hymn centered on mutual service and building a better world of love and community."
The end result was the self-commissioned work shared on the FPC Facebook page in all its virtual glory at https://youtu.be/qa2BJHCPphg.
Allen-Pickett said the new words and their call for unity seemed a particularly apt topic in Lent in 2021, during a time of upheaval and conflict around the world fueled by political, social and pandemic flames.
"I was preaching a series of Lent sermons on the power of self-sacrifice and a Lent study guide on Christian unity, and Robin was inspired by the two themes and how they relate." Allen-Pickett said. "Using his God-given creativity, he was able to write new lyrics to a beautiful old hymn and ended up creating a work of art that amazingly expressed both Christians' call to self-sacrifice and our own. call for Christian unity.
"We felt the need to reflect on Christian unity because we felt that there were so many divisions present in our country and in our world. The song reminds us of our call for Christian unity, both in the Gospels and in our theology.
Koozer said he felt called to write the new lyrics in support of what he saw as a fitting addition to the old and familiar Lenten theme of self-denial.
"I was very motivated by what I had seen happen," he said. "It just seemed like we needed a piece of music, so that provided us with that.
"I felt very positive about it. I certainly thought that it touched the souls of a lot of people and that there had been a positive response. In the end, I was very happy that I did and that I was able to help people during what I would call a special time during a special season. "
Koozer is Associate Vice President for Development at Hastings College, but perhaps best known as Professor Emeritus of Music and the longtime former Chairman of HC's Music Department.
As pleased as he was with the finished product, he said he had no plans to resurrect his adaptation of "Come, Labor On" for future Lent services. It was a song for a season – a song he would like to think of served his purpose well.
"The publisher has given permission to do it just for once," he said. "I don't want to encroach on this. I'm just glad I got to do it and be a part of this process.
These are the words applied by Robin Koozer to the old hymn "Come, Labor On", adapting the work for a performance by a virtual choir on Palm Sunday 2021:
Who dares to remain inactive in this world of pain?
When others are hurting, what do we have to gain?
Now is the time to listen to our Master's call
Following Jesus in our daily life,
Transform the world by living the sacrifice.
Live like Jesus in our love and our work
With actions, not just words.
Engage the world in Christian unity,
Serve the Lord to build community,
Share the Word, our faith,
and the shining light of Christ in love to unite.
Trusting in Christ to lead us on our way,
Building a world very different from today's,
Fill the world with God with love for all,
Knowing that God holds us in his loving hands
As we engage, serve, trust his commandments,
Caring and sharing endless love and joy