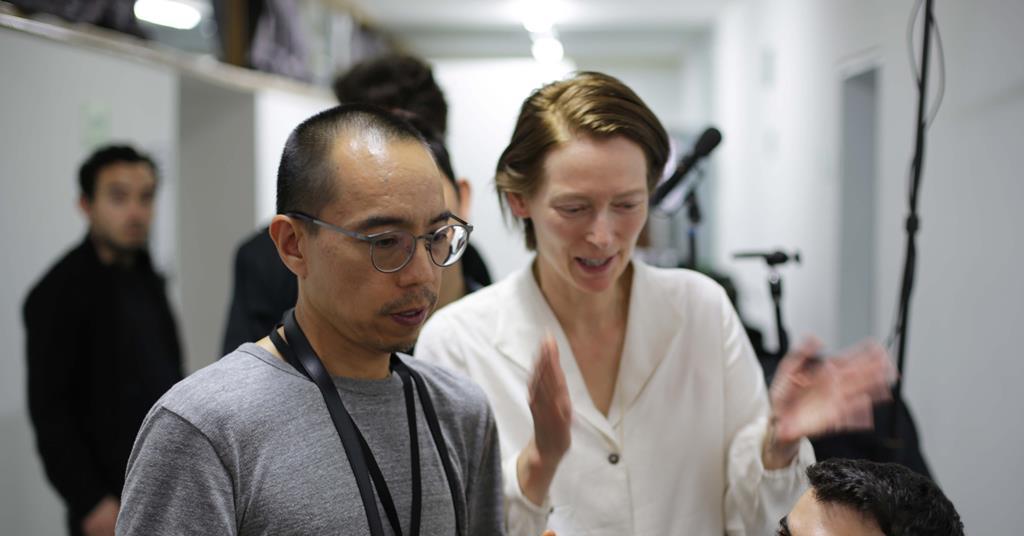 In Conversation: Apichatpong Weerasethakul and Tilda Swinton on Colombian Mystery Drama 'Memoria' | Characteristics
After a six-year hiatus between making feature films to focus on art and short films, Apichatpong Weerasethakul is back with Memory, the Colombian candidacy for the Oscars which was shot in this South American country from August to October 2019 with the support of Proimagenes Colombia.
The Spanish and English drama with undertones of mystery and sci-fi is the first of Apichatpong's nine feature films to be shot outside of his native Thailand. The filmmaker had been intrigued by Colombia and was able to explore the region after showing a retrospective of his films at the Cartagena Film Festival in 2017.
A meditation in part on how the earth and people carry lives of collective experience, Memory stars Tilda Swinton as Jessica, a Scottish woman who travels through Colombia to discover the origin of a mysterious sound in her head. The film premiered in July at Cannes, theater of Apichatpong's triumph at the Palme d'Or 2010 with Uncle Boonmee who can remember his past lives, and won the jury prize. Neon is distributing it across the United States, one screen at a time, with no plans for release on DVD or digital platforms. The Match Factory handles international sales.
Screen International: Apichatpong, why did you decide not to shoot Memory in Thailand and how does it feel to shoot in a foreign country in a language that is not your native language?
Apichatpong Weerasethakul: The political situation in Thailand has been quite tense since the 2014 military coup and the government currently supported by the military. I can't make the movie I want to make here. Colombia allows Tilda and I to be strangers, to operate with the idea of ​​not knowing, with open senses. During filming I felt comfortable with the flow of Colombia, with the tremendous support of the local crew. The experience of filming there showed me the universality of human emotion. It pretty much reflects the way I approach my films in Thailand.
I guess you felt an inner sound similar to what Tilda's character Jessica hears in the movie.
Apichatpong: Yes, that was before my trip to Colombia and during. It wasn't traumatic like in the movie; it was something very curious for me to hear but I was aware that it was not a sound but something in my head. So like Jessica in the movie, there was this attempted translation.
Did you design the movie before or was it something that motivated you to tell the story?
Apichatpong: I have been to Colombia several times and little by little the film started to emerge from situations, from stories that people shared with me.
Tilda Swinton: But even before, we had this very open and relaxed idea of ​​making a film without any prescription of narration or even of place, of a kind of welcoming atmosphere, a kind of suspension. We had this agreement to make a film about this atmosphere. All the details of things that could happen in the movie started to come out once Colombia started to give up on everything.
Jessica seems so adrift and unlike any character you've played. She's also an outsider, like you and Apichatpong in Colombia.
Swinton: First of all, we never described her as a character. It's not a word I'm always comfortable with just because I'm not that interested in the character; I am much more interested in people, in situations. We made it very clear from the start that this was going to be an opportunity to paint a portrait of someone who is devoid of any detail. She is not even a social being. She is a recipient.
As we discover, she is in this kind of limbo… She is a foreigner but she is not a tourist. She lives in Colombia but she is not Colombian. When we first meet her she is sleeping in a room that is not hers and the first thing we know about her is that she experiences this bang and that it is in many ways a mysterious story. It's someone who follows this breadcrumb trail through the forest to find out what that sound is.
The scene with the sound engineer, where Jessica tries to recreate the feeling, almost plays out like a thriller.
Apichatpong: It was reality trying to find that sound in my head. I worked with my trusted sound designer [Akritchalerm Kalayanamitr] try to get it and that's how it is in the movie. We discovered sound effect libraries from movies and we manipulated the sound. It's all about getting the audience into the mixing room and exposing the process.
Swinton: And also to recognize the difficulty, if not the impossibility, of getting something out of a person's head intact. First of all, she says it's probably impossible, which is an important statement for an artist to make. And second, she says it probably sounds different in her head. It is also an important statement to make for an artist, because the gesture of obtaining [something] get out of my head and be able to present it without losing much in translation – this is the range we are going through.
Jessica speaks Spanish in the film. Are you fluent?
Swinton: Well apparently…. barely! Piecemeal and inarticulate and apparently perfectly [sufficient] translate poetry.
What was your filming process like?
Swinton: We shot in chronological order. The filming was quite laborious and we traveled around Bogota with a relatively elaborate crew and we traveled to the mountains. We had a structure but at the same time, within that architecture, the trick was to keep it fresh and keep us in a state of not knowing what we were doing, which we both hold dear.
Apichatpong: When you don't know, you really listen and you open your eyes, your heart to any possibility. Going chronologically is important because we discovered this character little by little… She is not early, she is by your side.
I guess you've wanted to work together for some time.
Swinton: I can remember it [seeing] Tropical disease in 2004. I felt like I had found a movie parent and the idea of ​​calling him a colleague was magical and I hoped it could be true. He was truly a brother to me. The kind of free space he gave me was unique. I had it a long time ago with Derek Jarman and then unfortunately he left the building and I haven't had him the same way since.
Apichatpong, what was it like working with Tilda?
Apichatpong: I cherish the time of directing as much as the film itself, and I love spending time with her. We share our love of cinema and a particular cinema. In the end, it's not work, just fun.
What do you think of Neon's distribution plan?
Swinton: We are so proud and grateful because we believe that this vision not only honors our film but the cinema as well. It is possible that movies get lost these days.
Apichatpong: It's a way for the film to reach more people, actually. You just have to be patient and wait for this movie. We will be going to a city near you… we just ask the public to support us and trust us.
Swinton: And moving forward… we are not at all thinking of buying a ticket for our favorite group that might come to our city. We collect this ticket, stick it on the fridge behind a magnet and mark the date on the calendar. That's all we suggest – that, yes, the experience will be worth it.
What to think of the extraordinary sequence that takes its hat off to the science fiction genre?
Apichatpong: There are many possibilities [of interpretation]. I don't know if it's in the future or in the past but it's time when time collapses… sound design is full of memories and recordings. It's a tribute to many sci-fi writers I read when I was 15 and the illustrations on the covers.