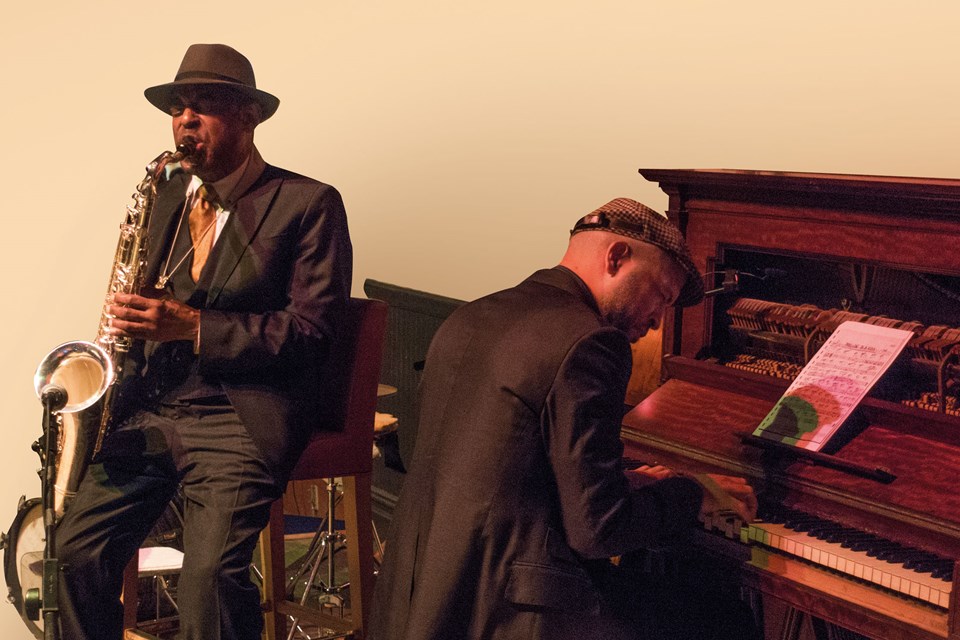 Interview with Archie Shepp: "Freedom is something that must be constantly watched and watched"
Some artists will forever be synonymous with a particular type of ensemble. For the most part, Duke Ellington means big band and John Coltrane a quartet. Inspired by the first and framed by the second, saxophonist Archie Shepp has recorded in and with many ensemble sizes over a 60-year career, but the duo are one of his defining musical vehicles. His piano partners, in particular, form a remarkable international Hall Of Fame: Horace Parlan, Joachim Kuhn, Tchangodei, Siegfried Kessler, Jasper Van't Hof, Dollar Brand, Mal Waldron.
Oddly, if not a little mischievously, Shepp says a drummer and double bass player might have joined these couples if he really had what he wanted.
"Most of the duets were induced by a producer," he says in a neutral tone. "Normally I prefer to record in quartet situations, but luckily the duets seemed to have worked pretty well. "
The most ironic of smiles flash momentarily on a Zoom screen that shows Shepp sitting calmly in the well-appointed reception hall of his Parisian home.
Regardless of whether two outweigh four by accident, the duo remain a key part of Shepp's work, and now a new name joins the illustrious lineage of his musical partners: Jason Moran, a brilliant songwriter and a creative dynamo. who has won a worldwide award by following for the past 20 years through his energetically subversive trio, The Bandwagon, and working with saxophone legend Charles Lloyd, with whom he has performed both in a small group and in duo. Moran and Shepp first appeared together at festivals in Belgium, France and Germany between 2017 and 2018 and were so enthusiastic about the audience that a recording of the highlights from the concerts was inevitable.
Let my people go just posted on Shepp's own Archieball imprint. With a repertoire that includes the gospel hymns "Sometimes I Feel Like A Motherless Child" and "Go Down Moses", as well as originals and standards ('Lush Life' by Billy Strayhorn, 'Isfahan' by Strayhorn-Ellington and 'Wise One 'de Coltrane'), the album offers a rewarding and moving listening because of the emotional charge of the songs and the competence of the artists.
"I found Jason to be a very receptive accompanist, and he plays a variety of styles. From the start, I found him to be an extraordinary pianist, and I had no problem with him as an accompanist and a composer himself, "recounts the 83-year-old of their first encounters on stage. "He is a very original young man.
Indeed, the fact that Moran, 45, is a visual artist, curator and composer whose deep interest in African-American culture has materialized into inventive projects that celebrate the legacy of early 20th century legends. century such as James P Johnson, James Reese Europe, Fats Waller and Thelonious Monk may well have resonated with Shepp, also a known great thinker. He is a playwright and poet as well as a musician who now has the status of a bona fide icon. Along with Marion Brown and Pharoah Sanders, he was one of the Trane-stamped saxophonists who came of age in the mid-1960s and recorded a series of albums that made Impulse !, one of the groundbreaking labels of the 'era.
Shepp was last seen on these shores in 2018 when he presented his project "Art Songs And Spirituals" at the London Jazz Festival. The concert was a source of inspiration for the way it showcased the Black Church repertoire, also showing its close relationship to improvised music. This back and forth between sacred and profane has long interested Shepp. Throughout his career he has performed in a wide range of styles drawn from the experience of the African diaspora, from blues and jazz to funk, Afro-Brazilian, Latin and hip-hop. . But gospel has a special place in his heart, especially because of the balm it provides in times of trouble, and as far as Shepp can tell, his catchy tunes are a vital antidote to the many toxins of the Covid-era. 19.
"Absolutely, the suffering of many people during the pandemic [calls for gospel]He declares resolutely, his expression infallibly bossy under the brim of a black hat. "My own experiences as a young man, growing up in Philadelphia, being born in the South, then personal experiences, like the loss of my mother who was only 50 years old, the relationship between her and my father which was very difficult… so a song like 'Sometimes I Feel Like A Motherless Child' means a lot to me. My grandmother often took me to church and introduced me to a lot of this kind of music. So there is a lot of memory and my experience of this song. "
His speech is a little slower than in our last conversation a few years ago. There's noticeably less vigor than at his peak – an unforgettable 2005 appearance at Queen Elizabeth Hall in London saw him engage in a magical song-and-dance routine with drummer Steve McCraven, Makaya's father – and the saxophonist makes it clear that music is not his only sound Concentrate at this point: "I am concerned about my own health at the moment and trying to recover from various problems that I have had".
Despite these challenges, Shepp still has a deeply languid saxophone sound that keeps the minds of Ben Webster and Don Byas alive, as well as a poised, age-old lyricism that shines through. Let my people go. Perhaps more importantly, Shepp has lost none of his political spark. The man who made foundational statements on the oppression of blacks and ethnic minorities in the "free world", expressing revolutionary fervor on the 1971 album Things must change, would however gladly extinguish the riot fire started by 'Make America Great Again'.
On the day of our interview, the Senate heard the impeachment of Donald Trump for "incitement to insurgency" following the capture of the Capitol in January, an event that did not raise Shepp's eyebrows. As far as he is concerned, the former president has simply made the endemic prejudices more brazen.
"We live in a time when things are coming to a head," he said authoritatively. "Racism is an open fact. It is not something that people hide. The racists get their act together…. the Proud Boys, the different One Percenters… they're all collaborating with each other now, and over the past four years, they've been able to be pretty open about their feelings. I was not surprised by this shocking event [the Capitol raid] I was more surprised that they had a lot more leeway than Black Lives Matter.
"Maybe we're on a track where we're closer [to freedom] than ever with the selection of Kamala Harris as vice president, "enthuses Shepp, who can recall firsthand the hope embodied by civil rights leaders Dr. Martin Luther King Jnr and Malcolm X, and the despair caused by their death. "For a long time, I thought racism was recurrent, especially in the American experience. As soon as we come to a point of release, so to speak, say in the 1960s, we were able to create a positive change in America… only to have these things reversed.
"Later, as black people began to move into the middle class and there was more separation between the middle class and the working class, people were left behind. Part of it is through African Americans themselves. We weren't careful enough. We didn't pay enough attention to the gains we had made. We let go of the things that Martin Luther King and Malcolm did… we did not protect the freedoms we had won. Freedom is something that must be constantly watched and watched over. It is not a permanent event because there are always people and forces trying to undo the liberation that could have been achieved, "he warns.
Is this why "Let My People Go" is a relevant spiritual and political message today?
" Oh yeah ! », He answers categorically. "Maybe it will still be relevant because the forces that exist don't want to let my people go. Not just my people, but people all over the world who are being abused and have limited freedoms…. they must strive for the ultimate liberation, and if liberation is achieved to protect that state of being.
Such convictions are framed by a long career which has involved a great deal of research. As much as he embraced the experimental paths of forward-thinking thinkers such as Don Cherry and John Tchicai (appearing with them in the New York Contemporary Five), Shepp always returned to early forms of African-American music, mostly because he s He realized that many players of the late 19th and early 20th centuries had a zest of the imagination that any so-called "modernist" could learn a lot from.
Along with luminaries such as Anthony Braxton, Wadada Leo Smith and Art Ensemble Of Chicago, he was part of the cohort of African Americans who emigrated to Paris in the late 1960s and made many influential recordings for the label. BYG, among others. There was a greater receptivity from European producers and audiences to what was called avant-garde, a term Shepp viewed with ambivalence given his declared love for Founding Fathers such as Ellington, Armstrong and Fats Waller. .
Shepp will broaden his cultural and political horizons by participating in the Pan-African Festival of Algiers, a historic manifesto for the liberation movements of Africa in the 1970s, and will also perform in countries such as Senegal and Mali. He lived the life of an African American who saw much more of the world than most of his peers and ancestors and gained a mastery of world affairs and human nature which he puts into his music.
"Absolutely, that's probably the most basic thing about playing the horn," he nods warmly. "This is an opportunity to express my life experiences and I have tried to express the meaning of this journey over the years through my recordings. The events are deep and they have deep meaning for me.
Now a venerable statesman of black music, Shepp remains a living link with several revolutionary figures such as trumpeter Bill Dixon and singer Jeanne Lee. Less well known is his relationship with Thelonious Monk, whose timeless hymn "Round Midnight", with its masterful light and shadow, is featured on Let my people go.
Shepp has a story to tell about the visionary pianist that shows how the course of an individual's life can change and how the echo of a single decision persists over time.
"I met Thelonious Monk, he asked me to join his quartet at one point," he reveals. "But I had to refuse because I was married at the time with children and that would not have given me enough work opportunities to accept the engagement. I reluctantly called his house one day… and told his wife I had to turn down the opportunity and she said okay, Monk wouldn't want you to do something that would be bad for you. His wife Nellie, she understood my situation. It was an opportunity for me that would have been like going to college. I always regretted not having been able to. When I play this song ['Round Midnight'] I have a special feeling for that.
Archie Shepp and Jason Moran perform at the Barbican on November 12 as part of the EFG London Jazz Festival. Find out more: efglondonjazzfestival.org.uk
---
This article originally appeared in the April 2021 issue of Jazz side magazine. Never miss an issue – subscribe today