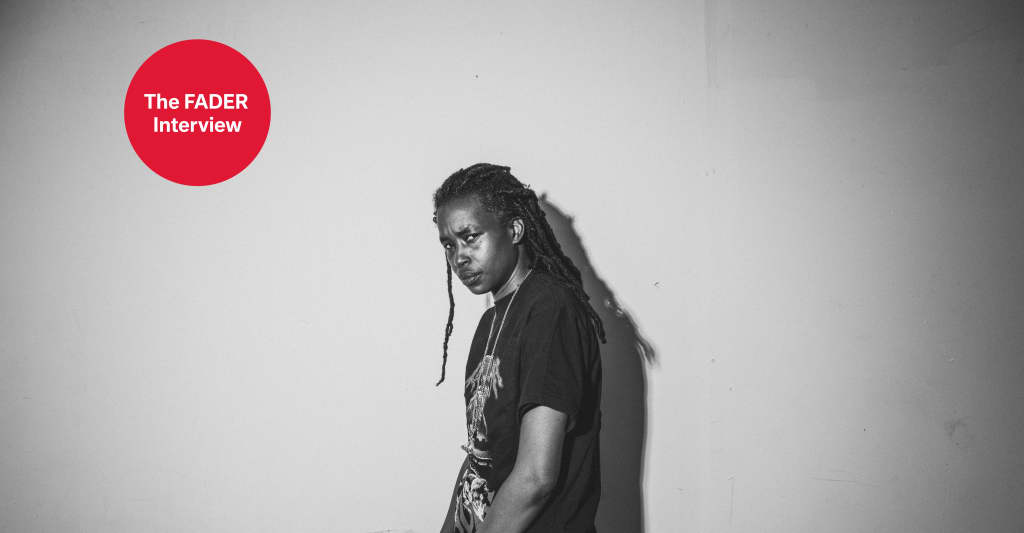 Moor Mother on Collaboration, Community and the Power of Sampling
I wanted to talk a bit about your perspective on time travel. I was wondering if you thought the sampling itself was a form of time travel?
Oh, I've said it a few times, sure. Sampling is very powerful. I mean, that's all we do is sample, in real time. So why don't we go deeper into the past? We're just reinventing or remixing what's been done. It's good to go back a long way. I don't really like being … This word influence is really interesting. I don't listen to other people's music to get ideas. I am more respectful of their life and try to do whatever I can to break the cycle or extend the work that they have been doing. Breaking the cycle ie what happened to Nina Simone, what happened to Billie Holiday? What happened to any woman in the blues? And how is it that we know so little of it? This is what I'm trying to break. But it's difficult because popular music is always supreme because it brings in the most money.
How would you describe your connection to popular music as an artist and listener?
People are very surprised by stuff that I don't even know or that I listen to. I like underground music more, I guess, stuff that isn't that mainstream. I love Erykah Badu, for me it's common I guess, but very soulful and very ingrained in the culture. I mean, I try to listen to browse all the new music. But no, I love everyone, and I encourage everyone. I respect everyone as a musician and I like people who just put emotion on the songs. I love that people are as genuine as they are in the industry. I still admire it.
Something I noticed in the way you speak in the interviews. When you talk about your work in the community, it reminds me of the very early days of hip hop in the Bronx, when it was very community-driven and people shared their ideas, there was a lot of teaching. So it's very interesting to see this same spirit, but in the context of Afrofuturism.
Oh yes. I mean, early hip hop inspired me so much because I also grew up listening to punk rock in an all black community. So when I can see that the hip-hoppers were hanging out with the punks too and just trying to create a larger sense of community, that was the open door for me to do my thing. It was as if this story existed. It's not weird that you like punk rock, and that makes sense. I mean, there is a story to it. It was therefore very affirmative.
Yeah, I know you're a history student. I was also wondering if your travels in this regard, if you had come across new stories and stories that are new to you rather that have really informed your new album?
Well not really. Like I said, I came from jazz history because I do two albums at the same time. So in my head and in my heart, it's the story of jazz and all the people who make it. Blues too. When I say jazz, I also mean blues. They are the same, I do not part with them. So a lot of blues musicians. And it's going to be after releasing all these albums that I've done, I'm really going to get into the blues. So this is the trip there, and I'm so ready. But because I do so many albums and like to do this two album thing at a time, it really bothers me. Because I have to wait for it to come out, but I keep doing other stuff.
What really motivates you to do two albums at the same time?
Something on the side for fun. So, it's like when you have homework and you have math homework, and it's kinda hard, but then you have a cool art project you need to do. It's a bit like going back in between. Like the cool art project and then the tough math homework, that's kind of how I feel for me, unless it's easy. I like things to be easy. I like being in creative mode. I don't really like difficulty, or waiting or anything like that. I guess I'm kind of a kid that way, but I just love to create. I don't even like to send the files. You know what I mean? I'm just like, "What? Send files? I want to create another album. What is sending files? "
So now I know I must have my own engineer someday. I really don't like the mundane. But I'm improving because now I'm a teacher. So now it's like turning that mundane into creativity. And I think I've done pretty well so far, as one kid said after class, "It was really fun." So it made me feel good because I'm someone who doesn't even like compliments. So when I heard that, I was like "Yes". And then another kid emailed me and said our conversation was super inspiring. So that's kind of how I want to do it. Like, yeah, we don't make an album together, but we create ideas. And I like it.
Yes. Tell me a little more about the details of the program you have put in place. As you mentioned this fall, or maybe even now, you are an assistant professor in the Thornton School of Music at the University of Southern California.
Yes. And I teach composition two, middle two in the second year. It's actually a course I'm taking over from another great artist named Ted Hearne. And then I hope that after this year, I will create my own class, that I will go out with a bang for it. But for now, just teach composition. I mean, I told the students on the first day, "My expertise is the feeling, the sensitivities. Because I'm a poet, so it's my main thing, it's to feel what other people go through, the world not just my neighborhood. That's why I always say … People who ask questions about Philadelphia, like, "No, I'm a world musician." I'm about to change my name to a world musician, so people can stop boxing me in those kinds of places because these are global issues, not isolated issues that people go through. And that's why I'm able to perform in so many places because I realize it.
Have you ever felt overwhelmed by the feeling?
No, because it's my job. Sometimes I would like to write more. Because every time I write it is a big advantage for me. The more I write, the more successful I get, which is kinda crazy. But, successful in my own heart and my work. I just need to write more.
You are already quite prolific as an artist.
Yes, but I don't write enough. That's why I'm trying to get a contract for a book. It was so hard. Yeah, I hope someone who listens wants to buy me a book. And like I said, the new poetry I wrote is absolutely amazing. You hear two poems on the album. I like poetry. Every day I learn more and it is the most important aspect of my job. At first I thought it was all cool synths and stuff like that, but actually it's poetry.
Are there any new poets that you read that really struck you as essential new voices?
I love Imani Robinson, with whom I had Brass, the album I made with Billy Woods, this hip hop album that I had. And I love Joy Kemet, who I've worked with a lot in the past. I like Sonia Sanchez, and Amiri Baraka, and Tony Morrison, and Ntozake Shange.
Finally, do you see your music as a counterweight to anything? For example, do you feel that your creative output, your music is balancing something else that exists in the world, be it other creative work or some other political force?
Not really, like I said, I tend to be in my own world as much as possible. So I just try to do things with my heart. I don't really know what other people are doing. One thing that's inspiring is just being a conductor. I told my students that musicians are conductors of human emotion. So it's my job to try to get things out of people. But definitely standing on the shoulders of everyone before me.
OK. I think it will. Maure Mère, thank you very much for being with us today.
Thank you so much. Peace to the world. I love you all. And I appreciate your time.