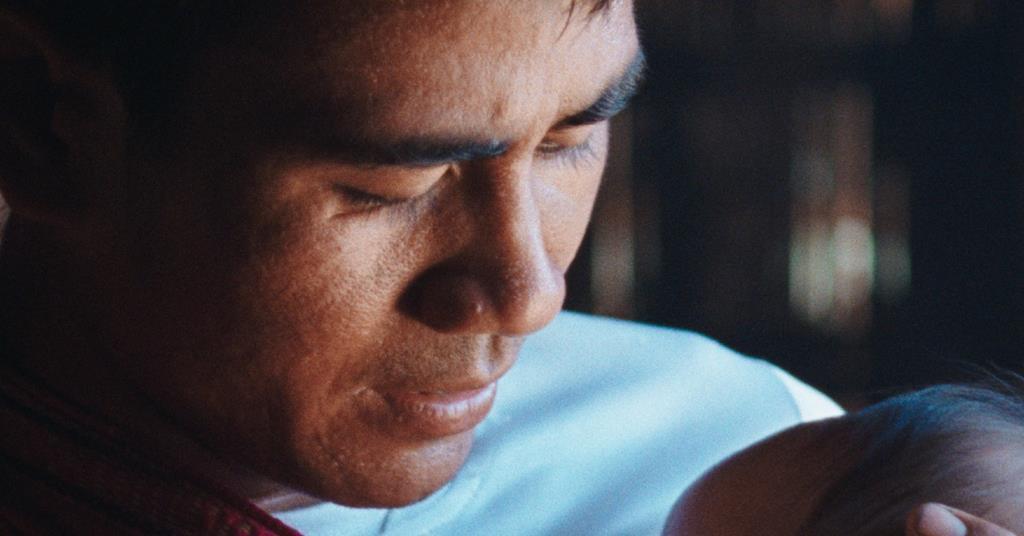 'The dust of modern life': Revue du FIDMarseille | Comments
Dir / scr: Franziska von Stenglin. Germany. 2021. 81mins
A gently persuasive exercise in exotic ethnography, The dust of modern life marks an auspicious debut feature for German writer-director Franziska von Stenglin. Following a Vietnamese villager before, during and after his annual jungle retreat – where he carries on hunter-gatherer traditions handed down from generation to generation – is a sumptuous immersion in a fascinating environment. It is certainly among the world premieres of this year's FIDMarseille, although it is somewhat hidden in the competition from newcomers.
Becomes more and more ambitious and poetic in its second half
Visually haunting from start to finish, the film is a testament to the skills of cinematographer Lucie Baudinaud and colorist Ronald Fliss, whose roles in the successful switch from Super16 to digital were clearly crucial. The team captures the myriad of shades of green in the rainy Vietnamese countryside of the Central Highlands region with crystal-clear richness and depth.
The opening title cards feature the main protagonist Liêm, who is of the Sedang ethnicity. His annual jungle expedition is said to be in jeopardy, for reasons that never become clear within 80 minutes. The importance of this expedition is evident by the seriousness with which it is planned; Liêm will be accompanied by three other adult males, but not by his young son Quang – the latter is told that he will be able to accompany his father "next year". The quartet, which went uphill with its supplies just after half an hour, can thus completely escape its family for several days. There are shades of John Boorman Issuance here – not that anything, however slightly dramatic, happens during Liêm's stay other than the inconvenience of intermittent heavy rains.
The sequences leading up to the departure of the men sketch village life with sensibility and economy, including a noisy festival which (as has long been almost obligatory in rural documentaries) features the graphic slaughter of a large pig. This opening section also includes two breaks in the observational chronicle format: the first is an interpolation of monochrome archival news-style footage from the late 1960s, showing the daily lives of the nation's farmers during the Vietnam War accompanied by a patriotic and catchy song of cheerful and pungent anti-American defiance. The second, a little less successful, sees editors Marylou Vergez and Zuniel Kim quickly alternate between a festival dance performance and its equivalent on national television – a no-brainer, done in a brutal way.
It's a rare misstep, however, for a film that becomes increasingly ambitious and poetic in its second half – the nature of the project itself is hugely debated between the subjects. ("What we say will be recorded by their cameras, you know," one of them warns as they painfully climb under test conditions.) Actual interactions between filmmakers and filmmakers are rare; However, they include a cute little moment where one of Liêm's party members holds a tin can lid over his eye as if the ringpull is a camera viewfinder.
The latter stretch out, with plenty of nighttime shots and various bodies of water glimpsed amid the sounds of insects and unseen creatures, take impressionistic turns and impart a distinct and unmistakable scent of Apichatpong Weerasethakul. But despite traveling through familiar thematic and geographic terrain, The dust of modern life thankfully is his own beast, von Stenglin pulling off a few simple but elegant visual / sonic hits; sound engineer Nguyễn Ngọc Tấn and sound designer Christian Wittmoser excellent. The final slow fade to black – the men seemingly walking back to their village in the back of a truck, as another cheerfully patriotic / military song is sung in the overwhelming darkness – is a sound capsule for a stealthily memorable experience. and truly cinematic.
Production company: Punchline Cinéma
International sales: Punchline Cinéma, Paris ([email protected])
Producers: Franziska von Stenglin, Lucas Tothe
Editing: Marylou Vergez, Zuniel Kim
Photography: Lucie Baudinaud