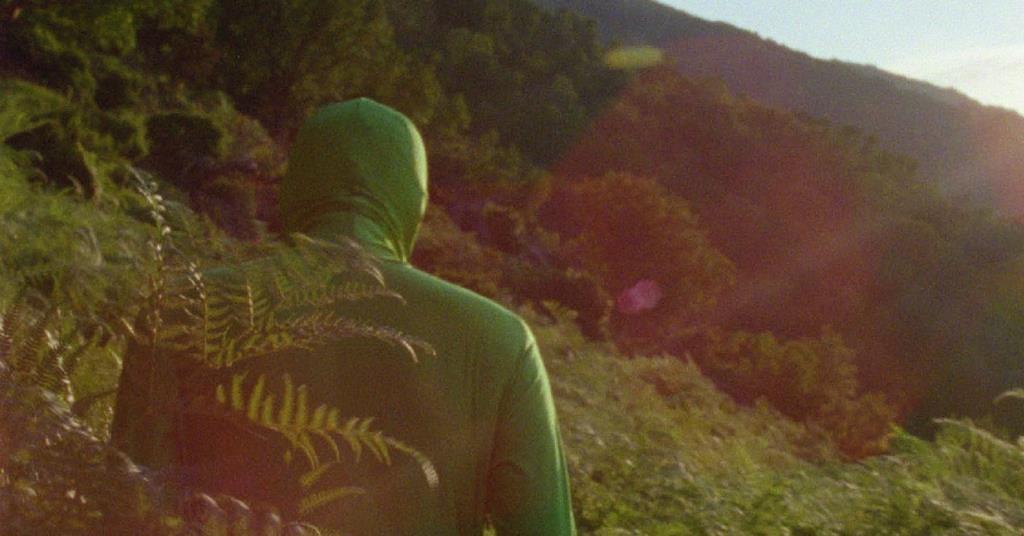 'The Invisible Mountain': FIDMarseille Review | Comments
Director / Screenwriter: Ben Russell. WE. 2021. 83mins
World Cinema Shaman in Residence Ben Russell concocts another idiosyncratic incantation in The Invisible Mountain. Road-movie on foot, it follows the physical and spiritual journey of a Finnish thirty-something whose twists and turns are interspersed with musical performances by the female Helsinki trio Olimpia Splendid. Aspiring and sometimes reaching areas of trippy transcendence, this is a presumably handcrafted, handcrafted, 16mm affair – even the captions are hand-scribbled – that will tickle longtime Russell aficionados and help to expand the prolific and globetrotting Los Angeles. cult fan base.
What matters here, of course, is the journey itself rather than a particular destination or resolution.
Revered in movie circles for loose psycho-geographic works like Let everyone go where they can (2009) and Good luck (2017) as well as his collaborations with English family spirit Ben Rivers – who here contributes black and white camera work – including 2013 well received A spell to ward off darknessRussell has always been a very music-oriented artist. The invisible mountain, which could presumably be programmed in concert-oriented venues as well as more conventional venues, starts off with striking style at an Olimpia Splendid concert.
Russell captures the performers (all art school graduates) in a beatific close-up, bathed in purple-blue light. The trio overlooks one of their rhythmic and hypnotic numbers that combine detuned guitars, drum machine loops and ethereal vocals. The rest of the concert then casually introduces us to their roadie Tuomo Tuovinen, a thin, bald, bespectacled, bearded man who looks quite a bit like Donald Pleasance in the mid-1960s. The title card drops to the 15-minute mark, after which Toivanen unassumingly emerges as the main "protagonist" of this fast-paced, episodically free 83-minute image.
Inspired by the writings of René Daumal, including the experimental novel, unfinished and published posthumously in 1952 Analog mount (subtitle A novel of symbolically authentic non-Euclidean adventures in mountaineering) is the film's reference text as Toivanen travels through various scenic and remote corners of Europe, from Finland to Greece in search of…. clarification? Himself? The truth is there, somewhere: "The door to the visible must be visible", advises Daumal.
What matters here, of course, is the journey itself rather than a particular destination or resolution. Orally express the film's concerns ("I don't know what that feeling is, or if I have feelings at this point…" muses Toivanen, "I want to see what's behind the horizon") doesn't really help to clarify things a lot. Our laconic hero is always a little empty, his philosophical self-examinations repeatedly overshadowed by less tangible sensory stimuli. What really makes the film sing are the atmospheric styles of Olimpia Splendid, the sublime romantic glories of the uninhabited landscapes, and the way Russell (working as his own editor) combines the two.
This cut sometimes achieves true notes of grace of concentrated euphoria, like the jump of Tuovinen in an icy lake. A hard-hitting virtuoso montage thrillingly recaps "the action" so far in a 120-second burst of rapid-fire footage accompanied and propelled by an ecstatic drum. At this point, the film has let go of any pretense of on-the-fly detachment, with Russell stepping into his own frame to accompany and converse with his subject somewhere in the wilderness of windblown Finland.
Shot before and edited during the pandemic, Russell's adventurous but accessible film completes a transdisciplinary triptych that began with La Montaña invisible in 2019 (Mexico City installation co-created with Nicolas Becker) and continued with The invisible mountain last year (exhibition organized at the Plateau in Paris). This culminating event will affect many people for whom the milestones of spring 2020 and beyond have triggered a reassessment of priorities.
Production company: VSBL MTN
International Sales: Ben Russell ([email protected])
Producers: Ben Russell, Christos V. Konstantakopoulos
Editing: Ben Russell
Photography: Ben Rivers, Ben Russell