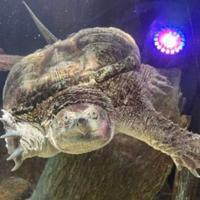 Travel: More Than History – The Bryan Museum Showcases Live Animals and More | Life
BRYAN – The Brazos Natural History Museum is a fun place where you can learn about Texas history and see some funny creatures.
This hidden gem isn't too far from Highway 6, and if you're planning on spending a day in Aggieland, you should add this museum to your list of stops.
Obviously, since this is a natural history museum, there is a story about the fossils and prehistoric creatures in the area, the minerals and gemstones that have been found. It also has a section dedicated to the Wild West with a full-size trolley.
However, the most unexpected, yet exciting part was the live animals you can see at the museum.
First, we were hypnotized by a beehive. It was not a normal hive, but a hive built inside a box with glass to observe them. They were mostly huddled in one place – we assumed they were around the queen – while others scurried around the hive. It was so cool to see all the honeycomb and what goes inside a hive.
Then we met Boris. I knew exactly what it was because I saw several snapping turtles in my childhood home. However, Boris had a smoother shell, which means he is a common snapping turtle. Where I grew up we had alligator snapping turtles that had more defined ridges on their backs, much like an alligator.
Boris was very active and enthusiastically swam towards us in his tank when we approached, but a sign made sure it was because he thought we were going to feed him. Once he realized we had nothing for him, he found a comfortable spot and watched us walk around the rest of the room.
We saw tarantulas, snakes, box turtles (all in their tanks) and there were taxidermied birds as well as well preserved butterflies and beetles to see as well.
I highly recommend taking a day trip to the Bryan/College Station area and stopping at the Brazos Valley Natural History Museum. The museum's address is 3232 Briarcrest Drive in Bryan and it is open 10 a.m. to 5 p.m. Tuesday through Saturday. For more information, visit their website at www.brazosvalleymuseum.org.